International schools offering a complete educational journey from kindergarten to high school are a preferred option among expats living in Cluj Napoca.
The reason for choosing international schools is not only related to the language of teaching, but to the level of high education and modern teaching methods.
Within these schools, children have the possibility to learn within a secure and developed environment not only the standard subjects but also creativity, critical thinking, management skills, and other essential social abilities.
These international schools have smaller class sizes than usual to ensure that each child has individual attention and support offered by highly-trained teachers.
The diplomas obtained from such schools have international recognition, so the students can continue their university studies in Romania or in any other country of the world they wish.
Additionally, these international schools foster a sense of community among families of diverse nationalities, creating a more familiar atmosphere for parents and making them feel integrated into the school community.
Let's see the international schools in Cluj Napoca with a few details about their curriculum, mission, and yearly tuition fees.
Royal School in Transylvania
Adress: Str. Henri Barbusse nr. 44-46
Reception desk: +40 770 103 108
Royal School is the only school in Cluj-Napoca that solely teaches the Cambridge Curriculum in English for students from 5-18, and British style EYFS curriculum for 3-4 year olds. As you would expect, the school is an English-speaking school.
The school's mission as stated on their official website is: "To conceive, offer and implement a complete learning experience, by reaching and sustaining the best balance between academic accomplishments and social, emotional, physical and spiritual development."
Their vision is to be leaders of performance in private education in Romania and a model of professionalism and moral integrity.
Royal School wants to prepare each child for the challenges of our century with the help of teachers of excellent teaching capabilities and relationship skills. The teachers mission is to educate the pupils in critical thinking, problem solving, collaboration, agility and adaptability, and to stir curiosity and imagination.
About the Curriculum
The Cambridge Curriculum is an internationally recognised curriculum designed in line with the National Curriculum of the United Kingdom, with students studying a broad range of academic and creative subjects. Students study English as a First Language, Mathematics and Science as well as Art & Design, Computing, Foreign Languages (KS 2 onwards), Geography, History, Music, Drama, Physical Education, Religion Studies, and more.
When students graduate at the age of 18 they will receive qualifications that will allow them to study both nationally (Romanian University), and internationally.
The school also offers a multitude of clubs for the children from Monday to Thursday, from 3 pm to 4 pm.
The school policy states that the classes will have the capacity for 20 children. In extreme demand situations the class size can grow to a maximum of 22 pupils, with the exception of the Reception Class where the maximum size is 16-18 children.
If children want they can bring packed lunch for school, but there is also a canteen where children can eat a two course lunch and two snacks (homemade cakes, fruits, cereals) served at morning break and afternoon break.
The Royal School offers one Flat Fee Study Package which contains personalized teaching, uniform up to Year 9, text books and exercises books.
They enroll children from the age of 3 until 18, and the fees are based on the age of your child as listed below in the Academic Fees in Royal School for academic year 2023-2024.
As you can see, for children in Kindergarten the yearly tuition fee is 4.650 Euro and for the Reception class it's 7.350 Euro.
For pupils in Year 1 and Year 2 the annual tuition fee consists of 9.650 Euro, while for students in Year 3 till Year 6 it costs 9.800 Euro.
For Year 7, 8, and 9 the tuition fee is 10.300 Euro. The yearly tuition for the Year 10 and Year 11 is 11.800 Euro, and lastly for Year 12 and Year 13 it's 13.500 Euro.
In order to book your place for the next year you will have to pay a registration fee of 300 Euro. The fee will be invoiced and must be paid within five days after signing the contract.
Transylvania College
Adress: Aleea Băișoara Street 2A
Reception desk: +40371144795
Transylvania College is the only BSO-accredited school in the region, offering a complete educational track for 2-18 year olds. The school has been chosen by families from around the world and has over 35 nationalities represented in their community.
It has an innovative educational model that is built and delivered on 4 strands: Academics, Global Awareness, Leadership and Wellbeing. They aim to give each community member whether it's staff, parents, students or alumni, the tools to be successful, to live a good life, to thrive and to be healthy, emotionally resilient adults.
Transylvania College mission is compiled on three important pillars:
Have a voice – to make your own choices and be responsible for them
Make a difference – to contribute to your community in a meaningful way
Discover Your Spark – to know who you are, what makes you unique, and know where you're heading.
They strongly believe that these missions apply to all the members of their community from the adults at home to the ones at school as all of them highly influence the development of the students.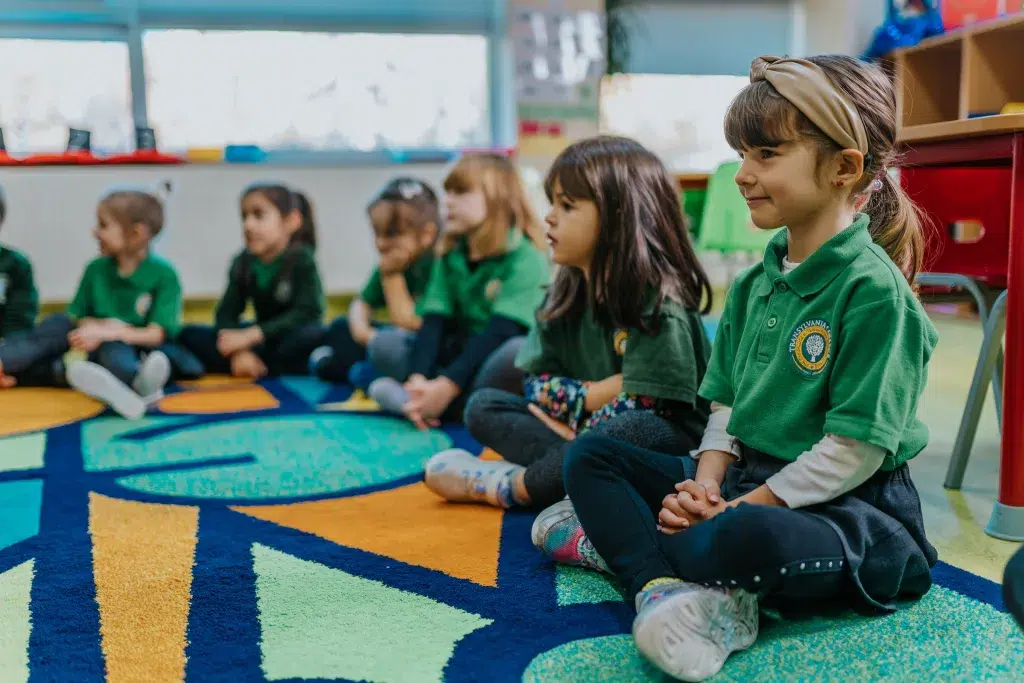 To have a BSO (British Schools Overseas) accreditation means that the school has been inspected by one of the inspectorates approved by the DfE (Department of Education) within the last 3 years. Only schools with valid BSO accreditation can call themselves "British Schools Overseas.
In primary and middle school the students enroll in classes where teaching is based on the National Curriculum of England. In high school, students study according to the curriculum offered by Cambridge International Examinations, in preparation for IGCSE and A-Level exams. These qualifications are recognised worldwide and are renowned for their academic rigor.
Some of the subjects learnt at Transylvania College are English, Mathematics, Science, Romanian for native and non-native speakers, History, Art, Physical Education, History of Religion, Geography, Music, Computer Science. From Year 6 children start to learn more about Modern Foreign Languages such as Spanish, German and French.
From Year 7 onwards they learn about Biology, Physics, and they will study Global Awareness (Internationalism, Service, Democracy, Environment, Adventure) through projects, events across the school year.
They will also have a curriculum on Wellbeing about how to develop healthy friendships, develop risk management, regulate emotions, communicate boundaries, and go into deeper subjects as they grow.
The yearly tuition fee is 10.300 Euro (if you make a whole payment it will be 10.000 Euro), and for high school the yearly fee is 12.500 Euro (whole payment will be 12.000 Euro).
The fees might differ from year to year, but the changes are communicated to parents on a yearly basis once the school contracts for the next academic year are released.
We hope you found this article helpful and that you'll find the right place for your children. You can read more about each school on their official websites or visit the schools in person by arranging meetings with the school administrators to answer any questions you might have. Joining groups on Facebook related to school can also help you gain insights from other expat families.