Are you, by any chance, looking to escape the hectic city life of Bucharest and need some inspiration for your next fun adventure with your kids?
Clubul Copiilor has compiled a selection of kids' favorite places near Bucharest where you can plan a fun-filled weekend for you and your little ones.
Our top list includes adventure parks, mansions, small animal farms, safe forests ready to be explored, and other wonderful places to discover.
Check out our list to get an idea of the best places near Bucharest that are perfect for a quick weekend getaway!
Adventure Parks
1. Edenland Park
Address: 12 Cantonului Street, Balotești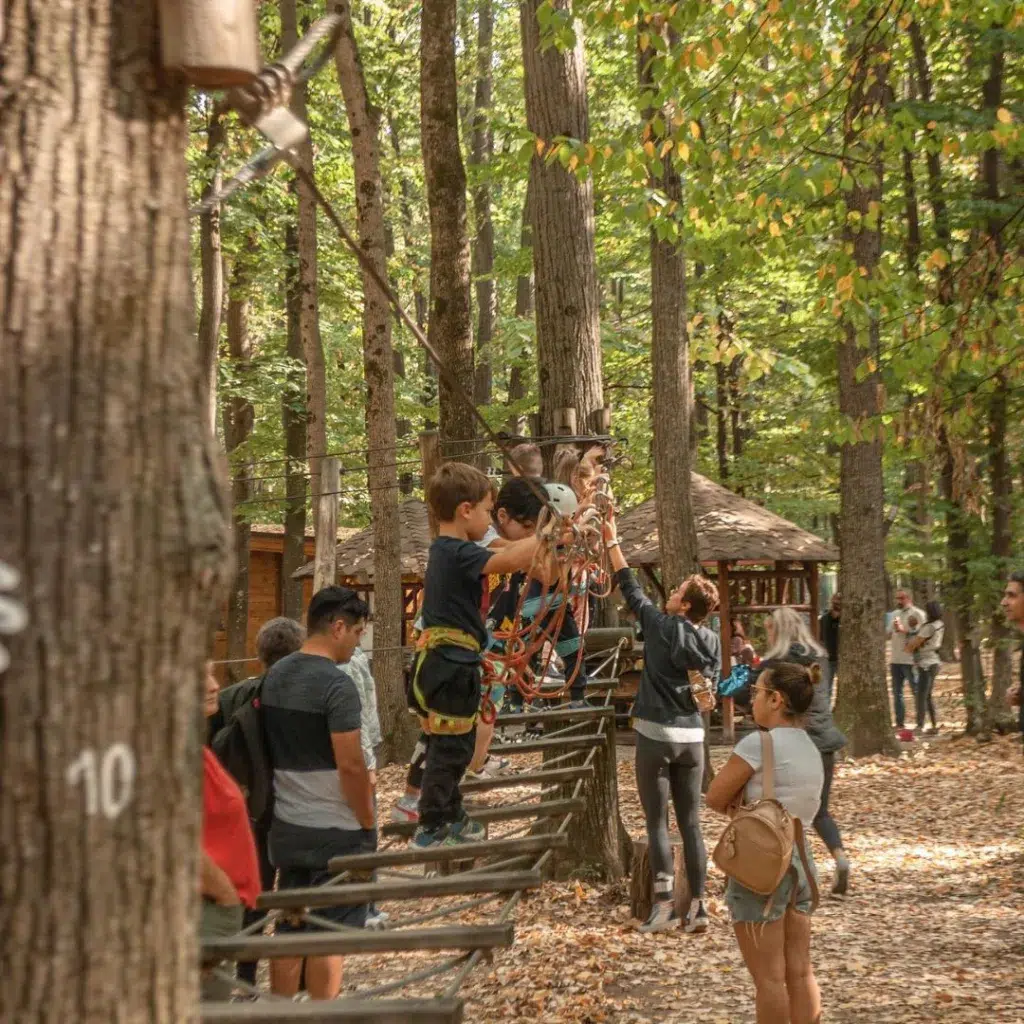 It's basically impossible not to have heard of Edenland. One might call it a marvelous place offering 'everything you could ever dream of': a zoo, horses and horseback riding, a children's playground, zip lines for the little ones but also for the grown-ups, bars, restaurants, fresh air, and plenty of shade for lounging.
The park is located only 20 minutes away from the city and it's the biggest adventure park in our country.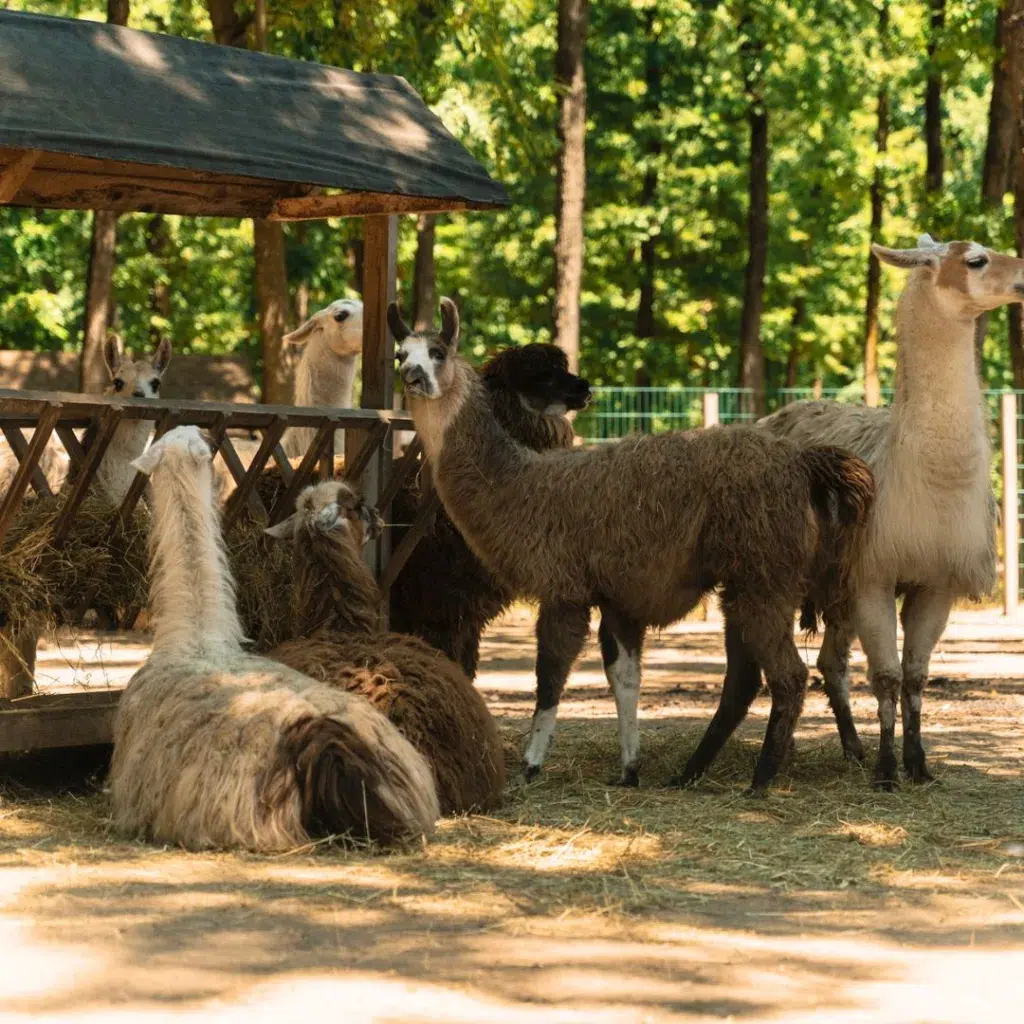 If you're looking for maximum fun – tree trails, archery, games and competitions, horseback riding, paintball, and more – Edenland Park is the destination you won't want to miss.
There is even the option of staying overnight in fairytale-like cottages. You can also choose to eat at the surrounding restaurants on-site.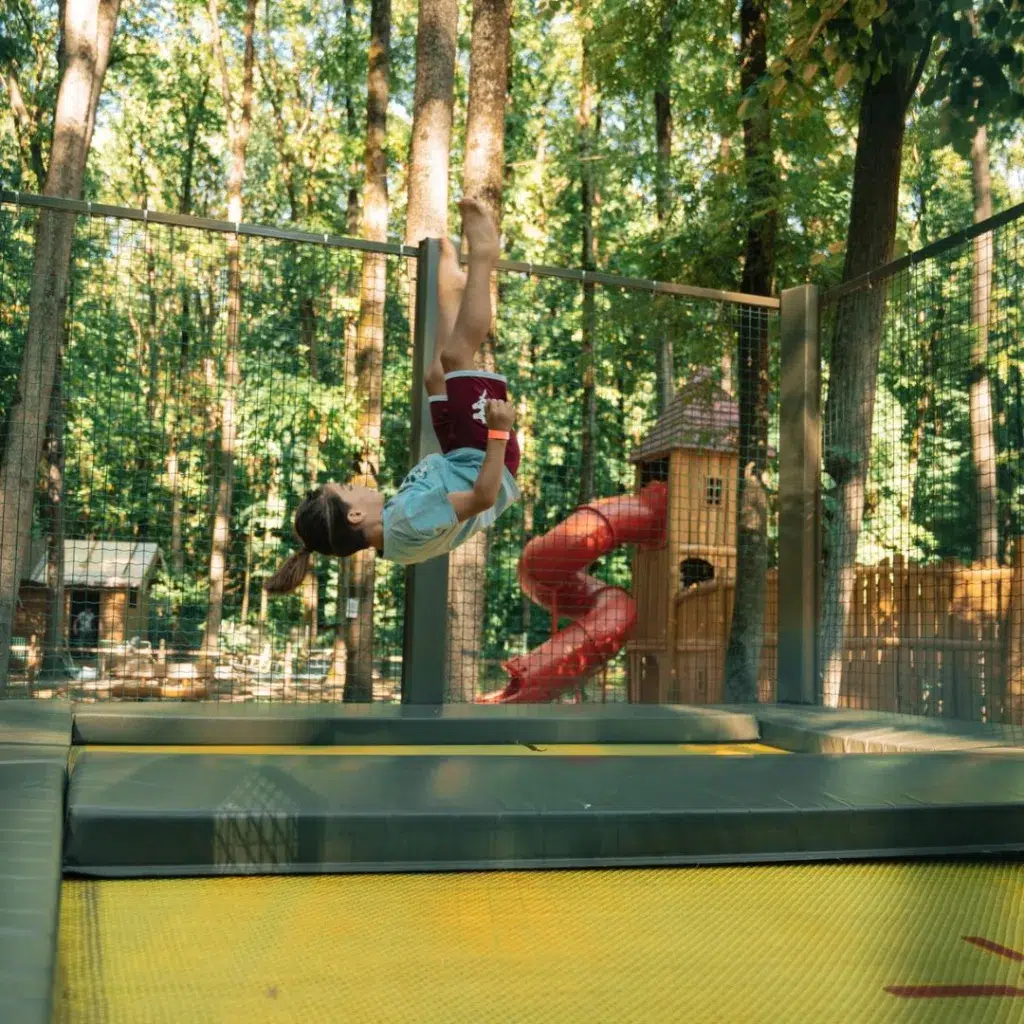 The place is full of children and parents who want to spend quality time together and it is one of the most popular destinations outside Bucharest.
2. T-Rex Park
Address: 73 Tibiscum Avenue, Bucharest
Animatronic dinosaurs on an island close to nature at T-Rex Park – kids will surely love the unique chance of seeing what those famous prehistoric creatures looked like! The dinosaur exhibits are massive and they look rather spectacular, so the little ones can enrich their knowledge of dinosaurs.
Children can also climb on some of the dinosaurs for a ride for an extra fee. There's also a children's playground with a trampoline and a track ride, as another attraction for kids.
There are other dedicated spots outside the park with trampolines and seasonal "water activities". It's important to know that there are no dining options on-site, and you are not allowed to leave the park to get some groceries (generally, depending on how crowded it is, families spend around an hour here).
There is available parking, and the place is interesting to visit because it doesn't take a long time to explore, offering you a special, quick, and memorable experience!
3. Dynamic Park
Address: 39-41 Mihai Eminescu Street, Chiajna
Beautifully landscaped, quiet, and a modern alternative to traditional parks, Dynamic Park Chiajna is the perfect place where children can satisfy their need for outdoor movement and adventures.
With numerous attractions designed especially for children (playground, boats, kart track, trampolines, bouncy castles, swings, and slides), and a recreational area for adults (gazebos and benches, terraces, and restaurants, all kinds of booths and little shops), Dynamic Park is the ideal place to spend a full day!
There is an available parking area on the lakeside, towards the pier, and the place is kept neat, and nicely landscaped. During the warm season, you can also go for a hydro bike ride, watch the swans and the ducks and even have a picnic nearby. In the midst of nature, where every child will find an activity to his or her liking, you will all recharge your batteries and prepare for another work week.
A place that has been specially designed to make it easier for the people of Bucharest to have access to alternative ways to rest and relax!
4. Extreme Park Cernica
Address: Ștrandului Street, Phoenix Cernica Complex, Cernica, Pantelimon
Adventure lovers will never leave! Extreme Park Cernica is the ideal location for children who love adrenaline, adventures, running around, and moving constantly.
This fun and entertaining adventure park is located just 15 kilometers from Bucharest, in a forest where you can go for walks, picnics, hikes, or any other type of outdoor outing. Our favorites are the zip lines, the suspended trails, and the playgrounds!
There are 11 adventure tracks for children, which are specifically color-coded to indicate the appropriate age group! There are also special areas in the park where you can enjoy a picnic, as well as a restaurant with a patio where you can dine.
At Extreme Park Cernica all members of the family are welcome, from youngest to oldest, to enjoy movement, fun, and get a big dose of adrenaline!
5. "La Catzarat" Adventure Park
Address: A1 highway Bucharest-Pitești, exit at km 30, at the entrance to Găiseni village, Giurgiu county. Type on Waze La Catzarat!, Găiseni, Romania
Located about an hour from Bucharest, "La Catzarat" is the place where children aged 3-4 years and up can have fun with suspended trails, different height zip lines, and other outdoor playing facilities to use up their energy in a hands-on way by getting active!
A remote location in an area surrounded by the forest, an opportunity to get some fresh air and venture out into its fresh surroundings. Here you can also order a variety of dishes to suit all tastes.
Apple pies, vegetarian food, pasta, baked wings with a variety of sauces, soft drinks, and lemonades. Wagon rides, eye-popping views of the Argeș River, and all sorts of interactive and fun activities for everyone.
A beautiful place where everyone can have fun and find something to do. Gazebos, rustic benches and chairs, beautiful and friendly people – all this you can find at "La Catzarat", a place where you will surely come back!
6. Artha Park
Address: Ghermănești-Snagov Road, Bucharest, Romania
Just a 30-minute drive from the city, Artha Park is the perfect spot to spend a memorable day with your loved ones, riding in a kayak. While paddling along a beautiful canal full of water lilies, you will enjoy the fabulous lake view, admire its flora and fauna and, if you are lucky enough, you might get to see a plethora of beautiful birds.
The site also offers a variety of places to eat and enjoy some drinks, and, on top of that there are also designated areas with great relaxing music.
70,000 m2 of greenery, 300 parking spaces, Lagoo Pavilion Luna & Sole, 300 m2 of covered patio, 16 gazebos, water sports base and showering area, changing rooms and a sauna.
Moreover, here you will find everything children might need to have fun outdoors while enjoying all the available amenities: playgrounds, exercise spaces, workshops that take place regularly and much more. Don't forget to dress in waterproof clothing!
7. Parcul de distracții Alex & Emma's Land

Adress: Pietroșani commune, Arges (approximately 1 hour and 45 minutes starting from Bucharest)
Kids who love adventure, outdoor activities, and fun-filled days will adore this park.
Designed specifically for kids and explorers' in need of fun and adventure, the park has many playing facilities: slides, ball pits, archery, paintball, trampolines, climbing nets, trails, playgrounds, suspended trails, zip lines, swimming pool, tiny colorful houses that look like something out of a fairy tale, and much, much more. In short, they will have an unforgettable experience here!
There is also the possibility of accommodation. For dining, there are restaurants and terraces where special treats are prepared on-site.
This amusement park also hosts children's events, workshops, and interactive games that focus on friendship, teamwork, and socializing.
All in all, you will enjoy an incredible day out together as a family and the amusement park will become one of the most sought-after locations for kids outside Bucharest!
Farms and zoos
8. Ferma Animalelor
Address: 20 St. George Street, Pantelimon
A farm covering about 40,000 m2 and, in fact, the first farm-park concept in the country. With plenty of places to enjoy delicious food, facilities for the little ones (fun, outdoor play, exercise), there are many specifically designed spaces to meet all of their needs.
Domestic animals here (horses, donkeys, goats, sheep, guinea fowl, chickens, pheasants and many more) can be fed and petted by the children. The brave ones can even try horseback riding!
In the middle of nature, in a clean, green space, with well-groomed and happy animals, children will be very happy to take part in the farm activities: looking after the animals, playing different interactive and fun games to stimulate their desire for adventure and much more.
At the Animal Farm children will get in touch with nature, enjoying the peace and serenity. You can also have a picnic in the area, so don't forget to bring all of the necessary things with you!
9. Ograda Bunicilor
Address: 357 Cățelu Street, Conțești
The Grandparents' Yard is just one hour drive away from Bucharest, and it is the perfect place where children can discover what country life really looks like, what people do in the countryside and how they look after their household and their garden. The idea of this farm was born out of the parents' desire to help children get in touch with countryside life as they once did.
By transforming a space in the middle of nature into what they called "Grandparents' Yard", they ended up creating a wonderful farm, perfect for children.
The little ones can meet rabbits, cows, birds, donkeys, pheasants, chickens, sheep and goats, which they can actually pet, feed and have their photos taken. There is an entrance fee, which also includes a tasty traditional menu for the family to enjoy. You can go for a horse carriage ride, have a picnic or just walk around the surrounding area and enjoy the fresh air, the peacefulness of the countryside and the closeness to nature!
10. Red Rooster Farm
Address: 85 Ghionea village, Ulmi county, Giurgiu
Nature, good cheer, relaxation and serenity. Oh yes, and of course the inevitable fun. Here at Red Rooster Farm you can have it all. With lots of specifically designed activities for children, all kinds of themed workshops, competitions and interactive games, the little ones will have a brilliant time and their adventurous spirit will be fully satisfied.
In addition to the activities for children, there are plenty of facilities for parents: patios, restaurants, shops and walking trails.
If you wish, you can get a ride in one of the horse-drawn carriages, you can ride a pony, or even a horse and you will also find a farmyard close by, where all of the animals are closely looked after and cared for.
You are welcome to spend the night at the Red Rooster Farm, so you don't have to make the journey back home. In the cool of the morning, you'll feel recharged and ready to take on another week. From the children to the adults, you will all have a great time at Red Rooster Farm – a peaceful place close to nature!
11. Bucov Zoo
Address: 11 Dacia Street, Bucov, Ploiești
If you want to see wild animals (lions, jaguars, bears, peacocks, monkeys and more), Zoo Bucov is the place to go. It is about an hour and fifteen-minute drive from Bucharest, if you choose to travel by car.
Children will be fascinated by the diverse international and global wildlife, not just the domesticated animals they see so often in many other places. Zoos are among one of children's favourite places.
Tickets cost 8 lei for children aged 5-14, 15 lei for adults, and children between the ages of 0-5 enter free. Parking spaces are available for a fee, but you won't need more than an hour or an hour and a half to see all the animals without rushing.
Kids will be impressed by the lion's magnificence, the playfulness of the monkeys, the colourful peacocks and everything else they will get to see.
Zoo Bucov could not be missed in our top places near Bucharest for kids!
12. Ghighiu Monastery
Address: DN1A, Ghighiu
Ghighiu Monastery is about an hour outside the capital. It is a quiet location with beautiful views of fields, forests and blue skies. The location, apart from being a spiritual one, also has many facilities for children: a playground, a park, a smaller zoo where they can see domestic animals (donkeys, horses, sheep, goats, chickens, ducks and pheasants). There are also plenty of benches and tables where you can dine outdoors.
The monastery is well-kept, it has many beautifully ornamented flower gardens, and tourists will always be welcomed with warmth. Lots of peace and quiet in a place away from the hustle and bustle of the city, close to nature, where children can breathe the fresh air and wander freely. The purple and white wisteria path leads you to a crystal-clear spring that leads into a lake with colourful fish that has been specially designed for tourists. You'll definitely come back here!
Natural Parks
13. Comana Natural Park
Address: 608 Gellu Naum Street, Comana
Located about 40 kilometers outside of Bucharest, Comana is the perfect place for a relaxing day out. In Comana village, besides beautiful attractions like the Comana monastery, mausoleum, monument of World War I heroes, and others, you will also find Comana Natural Park.
Parking is available, but you will have to get there as early as possible since the spaces fill up quite fast.
Once you've managed to find a parking spot, the adventure begins – and believe us, one day will not be enough!
Some of the activities include climbing the trees (and ziplining across the lake), paddling by boat, taking the electric motor boat and the two-seater kayak, flying with a motorized paraglider, archery, paintball at a fixed target, or even renting bicycles and tricycles.
Fishing enthusiasts can even do that.
The little athletes can play football, tennis, and basketball on the designated courts, as well as table tennis, and darts. You can go for a ride on the racecourse, go rock climbing, take a carriage ride, and much more, only at Comana Park!
14. Pustnicu Forest
Address: Pustnicu Forest Road, Bucharest
Located about 40 minutes away from Bucharest, the Pustnicu Forest is an outdoor location you don't want to miss. Many families come here with their relatives, friends, and children to enjoy the fresh air and have a good time: ball games, camping, barbecue and music, fun and relaxation.
There is a designated parking area as well as special barbecue facilities.
Children can take full advantage of the playgrounds, while the adults can spend some quiet time at the restaurant, or on the patios. On the other side of the river, you will find Pasărea Monastery.
The location is suitable for a picnic or a barbecue.
You can also take walks around the lake, or follow the trails from the forest, and, if you are lucky enough, you might even spot the wildlife.
Close to nature, away from the city's urban chaos and noise, a walk in the Pustnicu Forest is more than welcome!
15. Chitila Dendrological Park
Address: 69 Peace Street, Chitila
On the shores of Lake Chitila, you will find the Dendrological Park, a place where you can go for a picnic with your little ones, somewhere to take a quiet walk and relax in nature, enjoying the beauty and neatness of the surroundings (if you make it here during spring season, you can admire the beauty of the blossoming trees).
It also has two playgrounds, fitness equipment, beautifully set benches, and picnic areas. Of course, make sure you have everything you need to take full advantage of it.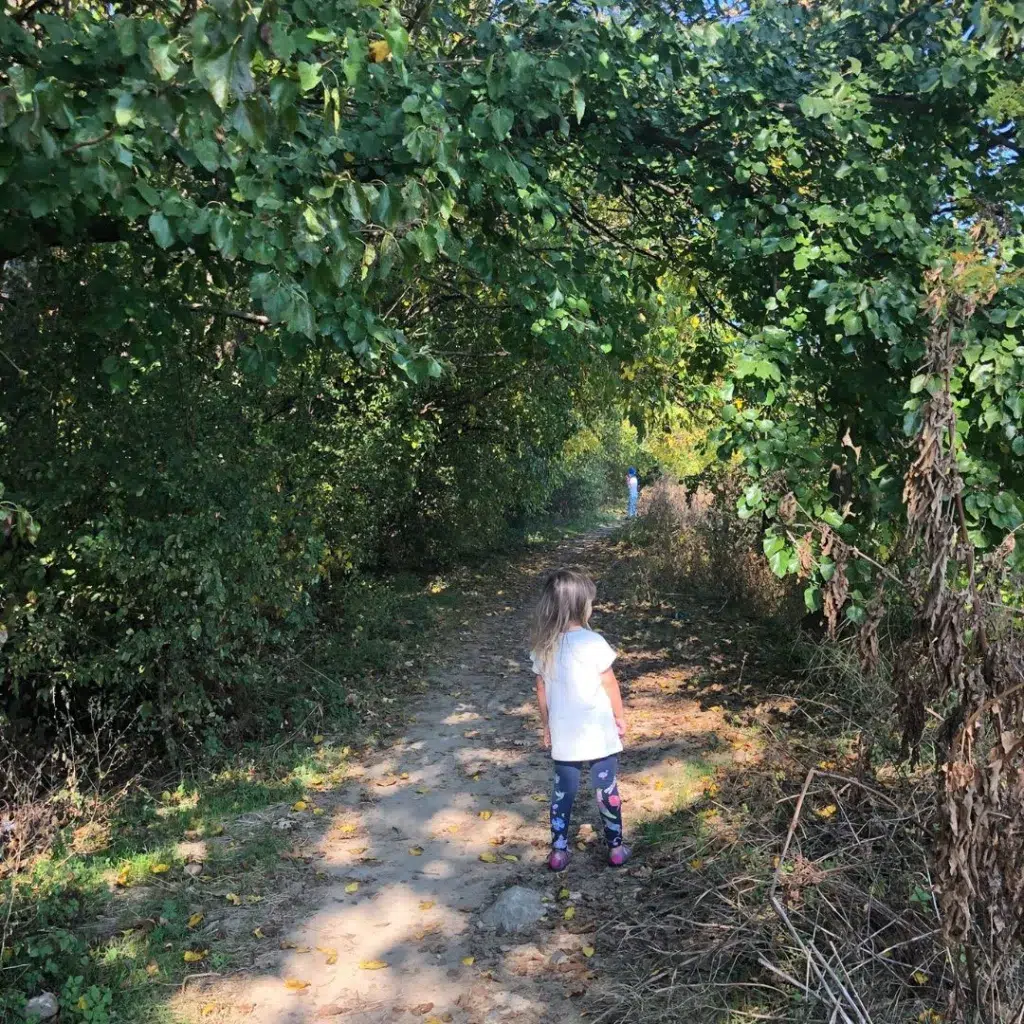 The Dendrological Park is a perfect alternative for a quick escape from the crowded city, where there's fresh air and lots of peace and quiet. If you've got a bike, you can even go for a ride around the area. If you're not in the mood for a picnic, you don't worry about the food, as there are restaurants and patios where you can get a variety of dishes for children and adults.
The view of Lake Chitila is stunning, especially in the evening when the sun seems to sink into its waters. You should not miss this wonderful park!
Places for the entire family
16. Mogoșoaia Palace
Address: 1 Valea Parcului Street, Mogoșoaia
Located about 15 kilometers from the capital's center, Mogoșoaia Palace is an estate featuring the building itself, the kitchen (cuhnia), the guest house, the courtyard where the watchtower is located, the ice-house and the Bibescu family's tomb.
With its superb architecture, this place is one of the most emblematic examples of Constantin Brâncoveanu, distinguished by particular finesse and attention to detail. The Bibescu family imprint is omnipresent.
The place is surrounded by neat, charming, and peaceful green spaces where you can relax and spend time with your children. Going to the Mogoșoaia Palace in and of itself is a special and unique experience that you won't forget: the atmosphere is very authentic and it will leave you feeling like you're stepping into a fairytale of the past which left its imprint on every corner of the palace.
Children will be amazed both by the magnificence of Mogoșoaia Palace and by the magical surroundings that still carry its story!
17. Acacia Village
Address: Main Street, DJ412A 1256, Ogrezeni
Located just an hour away from Bucharest, this location is absolutely gorgeous, perfect for adults and children who want to spend a quiet weekend away from the buzz of the city. It has many trees, an orchard, peacocks that wander around the property, and lots of friendly and cuddly kittens.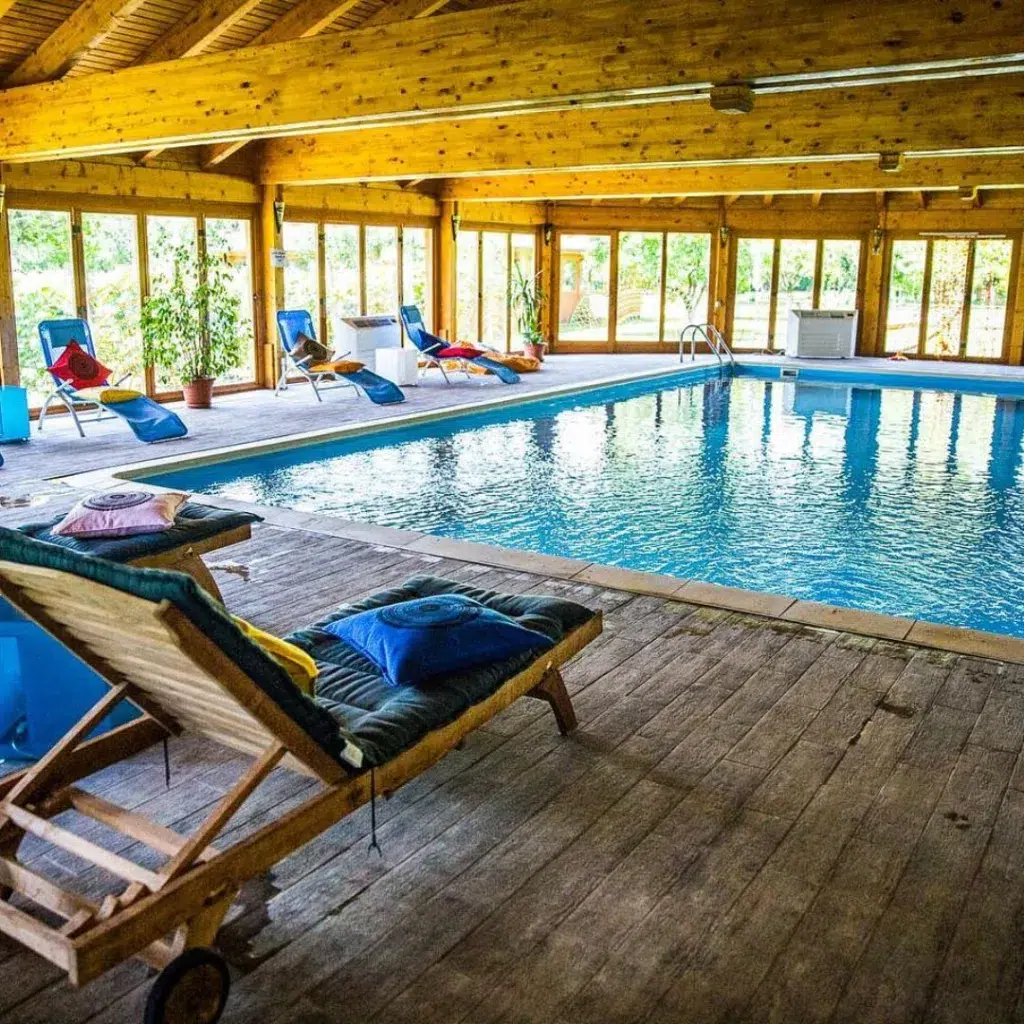 As you would expect, there are places where you can enjoy a nice meal, after which you can relax playing a game of pool, table tennis, golf, and bowling. There's also a swimming pool and a hot tub.
The courtyard is beautifully landscaped, and you'll also find playgrounds for the children – a space for activities that are well suited to them. You can walk around in the area, go through the orchard, you can admire the peacocks that wander unhindered, without causing any damage to the place, although in the morning they can make quite a fuss (peacocks are known to be "masters" in this regard).
 Red water lily lakes, fountains, scooters, go-carts – a dreamland in the village of Ogrezeni! It's a must!
18. Singureni Manor Equestrian Retreat
Address: Manor, Equestrian Retreat, Singureni
Singureni is a place of peace and serenity, harmony, and well-being. If you want to reconnect with nature and taste delicious, excellent, and sophisticated dishes, you can go for a weekend in Singureni village, located less than an hour away from Bucharest.
Enjoy horseback riding, spending time in nature, watching horse performances, and sitting under the open sky, admiring the majesty and serenity of nature, all here at Singureni Manor.
There are also specially designed playgrounds for children. If you decide to take a walk through the forest, you might have the chance to spot the deer, but only during certain times. In any case, a walk in the heart of nature, away from the hectic city life, away from the ever-present chaos, will reconnect you, and help you relax!
The children will enjoy your company and the constant connection with nature, the outdoor activities, and the freshness of the surroundings!
An unforgettable experience for everyone!
19. Greaca Domain
Address: 3 Dr. Ioanițescu Street, Greaca
Located within an hour's drive, the Greaca Domain awaits you with open arms and it is ready to offer excellent food, good cheer, and relaxation in a five-star hotel experience.
It's not imperative to stay here, but in order to enjoy the wonderful sunrise and the breathtaking view, it would be highly recommended to seize the opportunity. Great food, relaxation, rest, and quietness that is surrounded by nature. You can take a walk through the meadows and see the beautiful countryside, spend time outdoors and let yourself enjoy nature's harmony!
There is also a swimming pool, a beach bar, a restaurant, and a patio, so you don't have to worry about anything when it comes to food. You will also find a playground for children and special areas where they can run around and have fun.
You can relax while enjoying a wonderful view – a dreamy panorama from the restaurant. Whatever the season, the Greaca Domain is a place where you can retreat for a quality brunch or a family dinner!
20. Paper Mill – Artisan Village
Address: 278-280 Funieru Street, Comana
The Paper Mill is a special place designed for children, where they have the opportunity to discover and learn the traditional crafts of the past, created by the talented hands of people.
At first, you will be enchanted by the hosts' warm welcome, who will soon begin taking you on a guided tour that will leave you feeling impressed not only by the craft and its history but also by the passion of each and every tour guide. The love they have for their craft will translate into a wonderful experience you'll never want to forget.
The kids will be over the moon, enjoying all kinds of workshops!
Weaving, traditional crafts, handmade creations, pottery, loom, spinning wheel art, paper printing, and much more – all of them organized into workshops for the little ones to enjoy.
At the end of your visit, up on the hill, you can have a lemonade, coffee, or some juice. We also recommend subscribing to their newsletter to keep up to date with their activities. The location is not always open, so it's best to call ahead and check before you set off!
21. The Brâncovenesc Palace Complex in Potlogi
Address: DJ711A, Potlogi
A place filled with history, where you can spend a few hours enjoying the peace and quiet, and relax admiring the architectural beauty of the space. For the little ones, the entrance is free and adults have to pay a 10 lei fee.
It's a tiny price to pay for the magnificence of the place, and how much of it you can explore: rooms, clothing items from the past, furniture, household items, and more. Children will be charmed by all the colors they get to see!
After your visit, you can stroll through the beautiful palace garden, enjoying the dreamy ambiance all around. Close to nature, away from the buzz of the city, you will feel particularly at home. Even if the little ones are generally eager to see new places and move around as much as possible, they will surely be charmed by the old, fairytale-like atmosphere of the palace, the big space, and the "opulence" it displays.
It's worth visiting at least once, especially if you're staying in Bucharest!
22. Golești Estate
Address: 34 Banul Radu Golescu Street, Golești
The Golești Estate is one of those places for children, close to Bucharest, that you should definitely not overlook. Encompassing the Golești Manor and the Golești Museum, this place is something out of an old fairy tale, where you'll only find friendly people who are there to make you feel at ease.
Lots of traditional houses and courtyards, an old church, and many buildings preserve the soul of times that have passed. A truly amazing experience!
There are restaurants, patios, little shops where you can buy souvenirs, children's playgrounds, and everything else you would need to spend some quality time together. Furthermore, as it is very close to nature, you can walk the trails through the forest, you can admire the beautiful meadows, and gaze at the breathtaking landscapes.
Domeniul Golești is a highly appreciated place, especially as a mini-holiday destination for many families who choose to recharge their batteries in a special place!
23. Rustic Garden Bălteni
Address: 225 Medeanu Street, Balteni village, Conțești commune, Dâmbovița county
9000 m2 of vegetation. A place of creativity and beauty, a place of stories and harmony, where dozens of families gather to reconnect with nature and its beauty. This property consists of 4 adjacent fields covered in flowers and trees, that have a rustic decorated house in the middle which overlooks the landscape: windows in the shape of wagon wheels, 2 living rooms and a fireplace, with a special yellow design. In fact, the entire space looks like something out of a rural tale.
The star of the courtyard is the tree house, which can hold up to 10-12 children at the same time and it's about 3 meters wide. The Rustic Garden also has modern touches thanks to the hey 'sofas', pallet tables, lanterns and flower curtains, children's mud kitchens and more.
Children will always find opportunities to play and have fun, while parents can enjoy the calm moments, the peace and quiet.
A location you should not miss!
24. " La Arțar"
Address: 59B Colentina Street, Conțești County, Călugăreni Village
"La Arțar" is the place to be if you love interactive, educational games, workshops and other special events for children. With both outdoor and indoor playgrounds, located just 47 kilometers away from Bucharest, "At the Maple Tree" is the perfect location for families who want to offer their children safe alternatives to play and have fun outdoors.
There's also a nearby beehive where you can go, you can follow the trails and hike through the forest, try out wood painting, treasure hunting activities, football and other sports that encourage children to get moving.
You can also eat here, at a restaurant set in a quiet, tree-lined, beautiful and tastefully landscaped spot. Away from busy city life, you'll have a great time relaxing and finally enjoying time with your loved ones.
25. Icing on the cake: Therme Bucharest
Address: Bucharest Road 1K
Therme Bucharest is Europe's largest thermal water-based relaxation and entertainment centre, with a variety of mineral pools, saunas, water slides and one of the largest indoor botanical gardens in Romania.
For families with children, Therme Bucharest has set up a special area known as "Galaxy" which offers a wave pool, water slides, an outdoor pool for the warm season and lounge areas with palm trees. Because children's safety comes first, Therme Bucharest has a first aid unit in each of the three areas and teams of lifeguards constantly supervising the facilities.
The thermal waters have unique effects – the thermal water at Therme Bucharest is rich in mineral salts and has a temperature of approximately 30 °C – it soothes irritations, relaxes muscles and has an anti-inflammatory effect.
These are 25 places close to Bucharest that are perfect for children and families! We highly recommend every single one of these places because we know you will have the opportunity to have fun together with your loved ones.
Children are always looking for something new, they always want to discover, to play, to venture out to special places and look for the novelty in life. As long as you give them the attention and care they need, even the smallest and quickest trips can become a truly memorable experience.
If you have any other recommendations, we would love to hear from you.